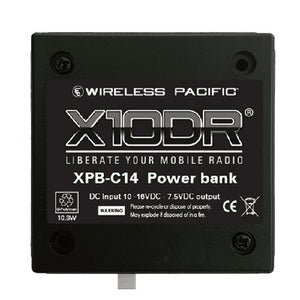 XPB-C14 "After hours" X10DR power bank
$150.00

$150.00

Save

$12.00
---
---
Operational regulations in some agencies require that vehicles have their batteries isolated and disconnected from auxiliary electronic devices at night or whenever the vehicle is being garaged. In such installations, DC power will not be subsequently available for recharging X10DR Secure Mics that only are returned to the charging cradle at the end of the workday.
For such installations, Wireless Pacific created the XPB-C14 Power Bank. The power bank is fitted in line with the standard XIC interface cable that connects the X10DR gateway cradle to the host mobile radio. The power bank has two ports allowing two gateways to be connected, or a gateway and a mobile charger if desired.
This installation device is designed to provide after hours" charging of X10DR handsets for installations in vehicles where the battery is completely isolated" whenever the vehicle is non-operational. The XPB-C14 device plugs in series with the existing XIC interface cable coming from the gateway to the XCA radio adaptor, using an XIC-0.5 short cable (order separately). When the vehicle is operational, the XPB-C14 internal batteries are recharged while the vehicle's battery power is also passed to power the X10DR devices attached.
When the X10DR handsets are placed back into the gateway cradles or XMVC mobile chargers, they will immediately commence recharging from the vehicle battery, if available, but if not, from the XPB internal battery power bank. The one power bank can typically recharge two 80% depleted handsets. Should this be felt to be insufficient then one XPB-C14 can be connected to every X10DR gateway or Mobile charger in the vehicle to assure each device is 100% charged ready for their next deployment.
---
We Also Recommend